Auvenshine's School of Taekwondo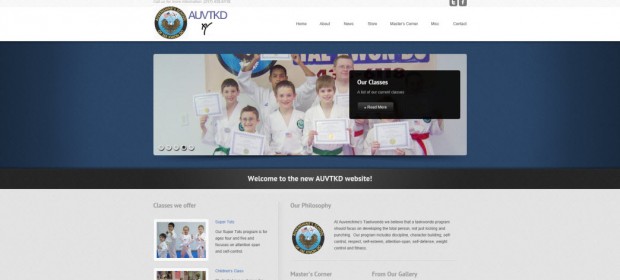 Auvenshine's School of Taekwondo is owned and operated by Martial Arts Hall of Famer, Master Bill Auvenshine (7th Dan Master) and his wife Patty Auvenshine (6th Dan Master).
The Auvenshine's wanted an update to an old site which was lacking both modern features and style found in many popular websites today. It is a dynamic (vs static) site built upon the WordPress platform. While Wordpress owes its start as the premium blogging software at the time, it has evolved to be a popular and powerful CMS (Content Management System).
The site uses a number of scripts which enhance the user's experience as they browse the site. There is an image carousel in the header that is easily modified on the backend (no code is necessary). In addition, the school needed a way to easily list and provide a quick biography of its staff. It also needed a calendar of events and a way to allow members to download necessary forms for events.
Other features include an image gallery, video gallery (for demonstrations by the staff) a blog, Twitter feed, and a store gallery.